It has been reported that India has seen a single-day rise of 2,151 fresh Covid-19 cases, which is the highest in five months. As per the Union health ministry data, the active cases have increased to 11,903, and the Covid-19 death toll has now reached 5,30,848, with seven latest fatalities.
Three of them were reported by Maharashtra, one by Karnataka, and three reconciled by Kerala. Meanwhile, the World Health Organization has revised its recommendations for Covid-19 vaccines, stating that high-risk populations should receive an additional dose 12 months after their last booster. The health agency has defined high-risk populations as older adults and younger people with other significant risk factors.
Panchkula in Haryana has Topped the Covid Positivity Rate Despite the Low Numbers
Eight fresh Covid cases were reported, and the number of active cases has increased to 13. However, all the active cases are under home isolation, and no deaths were reported.
In Maharashtra, 205 Covid-19 Cases were Report
Taking the state's tally to 81,42,059, and the death toll remained unchanged at 1,48,435.
In the midst of rising Covid cases in India, Delhi, Maharashtra, and Kerala have topped the Covid charts, with districts recording high cases seeing a 3.5x rise in two weeks. According to the Centre's data, the number of districts with a weekly TPR of 10% or more has increased to 32 across 14 states and Union Territories. In the March 19-25 week, 63 districts spread across 19 states/UTs had a TPR of 5-10%, up from 15 (across eight states) two weeks ago.
India's Covid graph
Daily Covid Cases in India since Jan 2023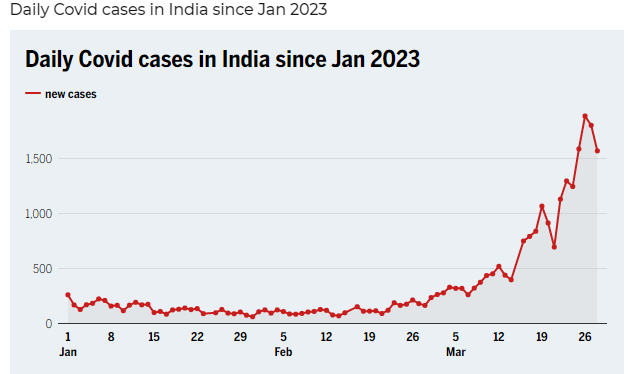 India City-wise Covid Case Graph
In the last two weeks, districts reporting high COVID-19 cases, including Delhi, Maharashtra, and Kerala, have witnessed a surge of 3.5 times
The latest government data has revealed a surge in COVID-19 cases across several Indian states that were already grappling with high caseloads. In just two weeks, there has been a 3.5-fold increase in the tally of cases. Among the districts with the highest weekly test positivity rate (TPR), four are in Delhi, two each in Kerala and Maharashtra, and one in Gujarat.
According to the latest data from the Center, the number of districts in 14 states and Union Territories that have a weekly TPR of 10% or more has risen to 32. Meanwhile, a report in the Times of India stated that there were 63 districts in 19 states/UTs where the TPR ranged from 5% to 10% during the week of March 19-25. This marks an increase from 15 districts in eight states two weeks prior.
According to the latest data, the regions with the highest weekly TPR have been categorized as follows: South Delhi with a test positivity rate of 13.8%, East Delhi with 13.1%, North-East Delhi with 12.3%, and Central Delhi with 10.4%.
According to the TOI report, Kerala's Wayanad (14.8%) and Kottayam (10.5%), Gujarat's Ahmedabad (10.7%), and Maharashtra's Sangli (14.6%) and Pune (11.1%) were among the regions with the highest percentage.
On March 24, the TPR of Maharashtra surged to 4.58% from the previous week's 0.54% ending on March 3. Meanwhile, Mumbai's positivity rate was nearly 10% on Monday, which can be attributed to the lower number of tests conducted the previous day.
The latest coronavirus live updates indicate that India has recorded a single-day rise of 2,151 fresh Covid-19 cases. While the nation continues to battle the pandemic, it is important to note that coronavirus infections may have additional health implications beyond the immediate symptoms. Recent studies have shown that coronavirus increases the probability of acid reflux, which can be an uncomfortable and even painful condition. Therefore, it is crucial that individuals take all necessary precautions to protect themselves and their loved ones from the virus, while also seeking medical attention for any potential symptoms or complications.